Extreme Engagements might as well be its own show and, well, it turns out the subject was actually explored in a Netflix series made in 2019.
Below, My Jewelry Repair discusses some extreme engagement scenarios of our own. We'd like to caution anyone planning to pop the question in an unorthodox way to read this handy-dandy article beforehand, in case you have any burgeoning bad ideas.
The Old Sports Event Engagement
We're going to cover this one first because it's done so often — and it's still being practiced to this day. Although it might seem like an amazing idea to ask that special someone to spend their rest of their life with you during the two-minute warning or before or after an amazing buzzer-beater, but maybe it's a better idea to leave the glory to the players on the field or on the court.
Sky Diving
If you're headed skydiving, it might not be a good idea to bring that engagement ring along. First of all, there's a lot that can go wrong with it, whether it's on the ground, in the plane, or while free-falling. We're not saying that skydiving isn't amazing, but maybe it's just something to enjoy in and of itself. We're not necessarily fans of putting jewelry or those who wear it in any sort of precarious situation, although we specialize in dealing with the aftermath — at least when your jewelry or watches take a spill.
Extreme Stunt Proposals
If you're the daredevil type, it might not be a good thing to bring into your engagement plan. First of all, if you're doing a stunt, whether it's lighting yourself on fire for some reason, jumping a full-length bus on a motorcycle, or taking it to the vert ramp for your proposal, any one of those scenarios can go horribly wrong if the stunt goes anything less than 100% right.
Deep Dive Engagements
Although telling someone that you want to spend the rest of your life with them is considered taking a deep plunge of sorts, if you're thinking Scuba Adventure when it comes to your proposal blueprint, we'd caution against that. You don't want to lose your engagement ring in the deep blue sea do you?
My Jewelry Repair: Extremely Good at Ring Repair
Whether it's a wedding band, an engagement ring, a wedding ring, or an anniversary ring, My Jewelry Repair handles it all. We have an easy online mail-in process that you have to experience to believe. We're here if your extreme proposal didn't go quite as planned and can help with any ring repair you might need along the way.
When The Proposal Was Too Creative – 5 Proposal Blunders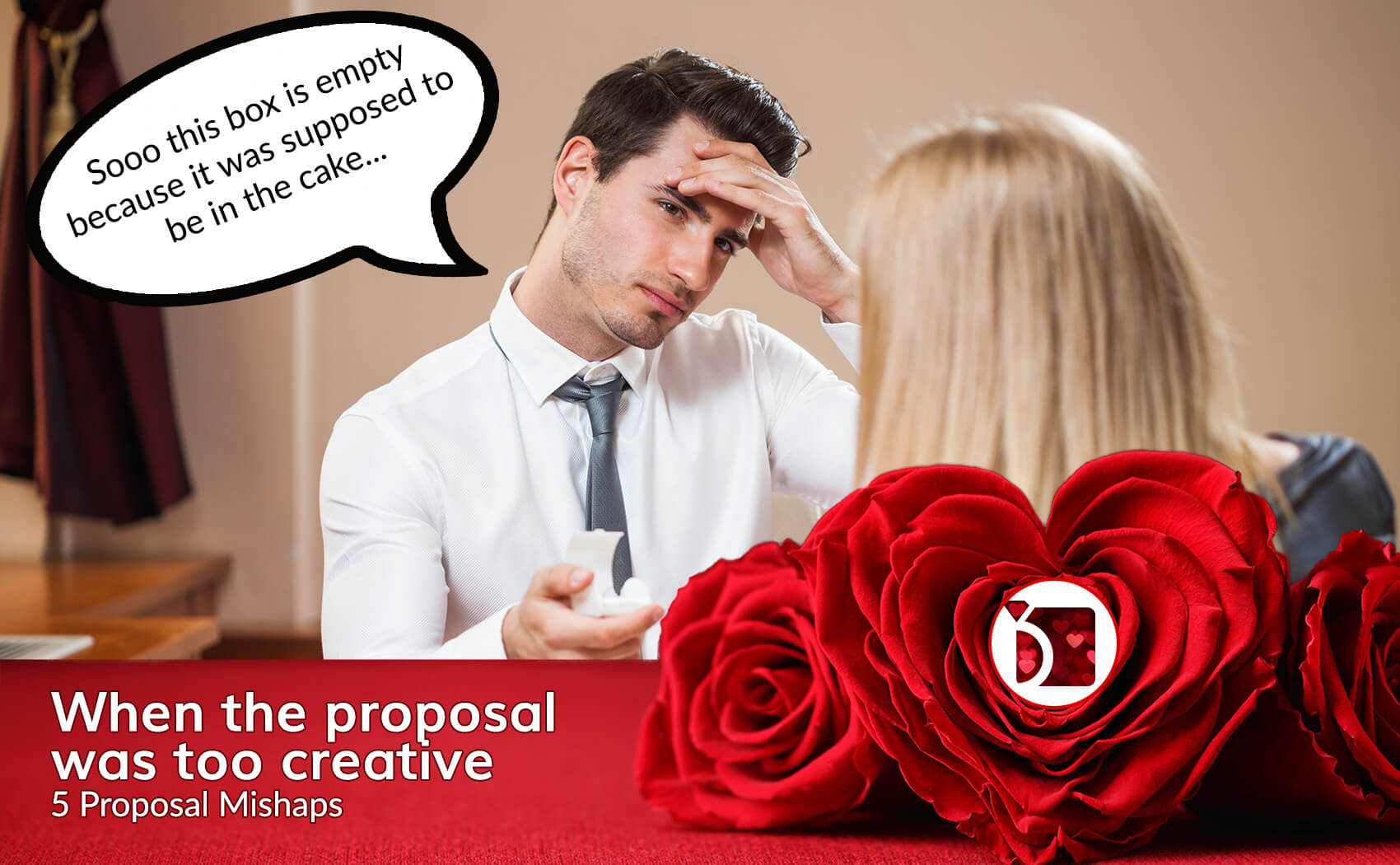 Are you thinking about proposing this Valentine's Day?
If yes, how you are going to pop the question is a big decision. The story of your proposal will be told over, and over again, and possibly captured on video forever. No pressure!
A creative proposal can be memorable and fun, so be sure to plan out all the details and possible scenarios. A proposal that is too creative can easily become a proposal blunder.
Here are a few examples of creative proposal mishaps:
Up, Up, and Away
Do you get air sick when you fly? Probably one thing to consider if you are planning a romantic proposal on a small plane. This proposal mishap included the young man getting air sick the instant he popped the question and tossing his cookies as they say. She said yes and handed him a towel.
Butterfingers
A man was proposing to his girlfriend in Times Square NYC and dropped the ring 8 feet down a utility grate. The couple reached out to NYPD officers for help, but ring was not able to be found that day. NYPD officers returned the next day and were able to find the ring. Although the couple did not leave their contact information, a Twitter post reconnected the happy couple with the found ring. Way to go NYPD!
Under the Sea
Planning on an underwater proposal can be tricky, so this groom to be decided to write his proposal in a card, the only problem was the ocean water destroyed the card before she could read it. She did say yes, once she knew the question.
Proposal from the Sky
A first time skydiver planned to propose when he landed and got down on one knee in front of his bride to be, unfortunately the weather did not cooperate and the dive was cancelled, but the proposal still took place with a little less of a grand entrance on the airfield parking lot, but she still said yes.
NBA Center Court
Last but not least, if you plan on making a very public proposal, you may want to be sure the answer is going to be "Yes". This young man proposed on the basketball court at a televised NBA game and she said no. The mascot walked him off the court. Poor guy!
Remember, MyJewelryRepair.com can provide ring sizing before or after your proposal with our easy to use online, mail-in process.
Don't Get Hung Out to Dry this Wedding and Anniversary Season
(Use Our Jewelry and Watch Service Before the Celebration!)
It might be your close friend's wedding, or maybe it's your own (if so, congratulations!). Either way, people on either end of the proceedings like to look their best. It's important to have your ducks in a row in the spring, summer, and early autumnal months that make up wedding season. MyJewelryRepair.com keeps our certified watchmakers and master jewelers on hand to perform lasting jewelry and watch repairs, as well as our signature professional clean and polish service during wedding season (which also happens to be anniversary season) and beyond.
Here's a Pro Tip from My Jewelry Repair
A lot of local jewelers and retailers charge extra for rhodium plating (which is used on all white gold items), black rhodium, gold plating, and also two tone finishes. My Jewelry Repair will never "upcharge" our customers for these additional services. No hidden fees. Our low $39.99 price includes all of these services. You can get any piece of your jewelry cleaned, polished, and completely made over like new. Best of all, it's free shipping door to door.
You might have a suit or dress decided, but maybe that classic timepiece, necklace, or those earrings need some tender loving care. We perform repairs from intricate (watch crystal replacement; changing earrings to screw posts & backs) to routine maintenance (replacing watch batteries; pearl restringing; cleaning and refurbishing). Often, we perform repairs and restorations that your local jeweler and watchmakers cannot, and get them done in a quicker timeframe.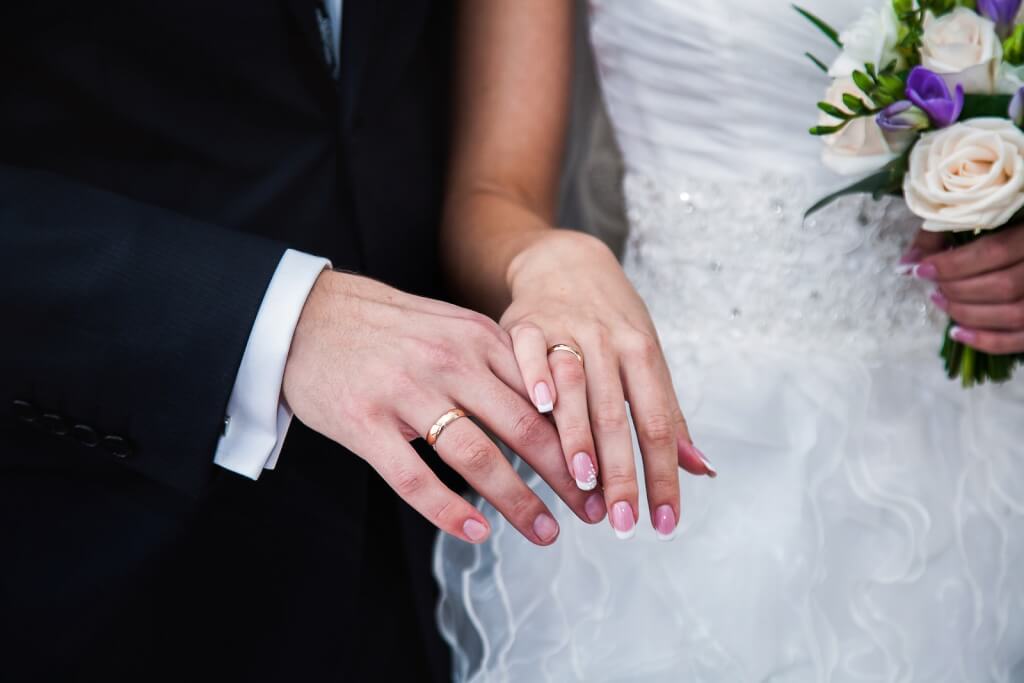 Get Your Repairs Done Faster without Having to Leave Your Home!
Is a wedding or your anniversary on the slate for next month? Send your jewelry and certified watch repair to us. Let us know the repair or service you need by following our easy online form. Our jewelry repair service supplies the shipping and contact information. You just print the order slip and shipping label. Choose the insurance, pack your repair, arrange a pickup or drop off, and leave the rest to us.
We include tracking to ensure your shipment arrives safely on schedule.
Some Quick Wedding Statistics
Travel Industry Association of America (TIA) asserts that about 24% of weddings are destination weddings. If you're spending considerable amounts of coin on travel fare, give MyJewelryRepair.com a try. Often our rates come in lower than local jewelry repair shops near you. You won't have to plan an itinerary to get your repairs done. You won't have to worry about parking or navigate a densely-populated mall with a confusing layout.
2.4 million weddings are performed in the U.S. each year, The most popular months for weddings are August through October. Act soon to make sure all of your wedding accessories are readily available and looking amazing. You'd be surprised by the conversations you end up getting into when your jewelry and watch game is on point.
Give the Glory to the Bride and Groom, but Look Good Doing So
Everyone wants to look their best for a wedding or even an anniversary celebration. These settings are great places to socialize, network, and maybe even start, rekindle, or enrich a romance of your own. It's undeniable that something magic is in the air at weddings and anniversaries. Make those special moments count. Whether it's a wedding ring resizing or your other heirlooms in need of repair, send your jewelry and watches to MyJewelryRepair.com today!
Tips to Save You Headaches this Wedding Season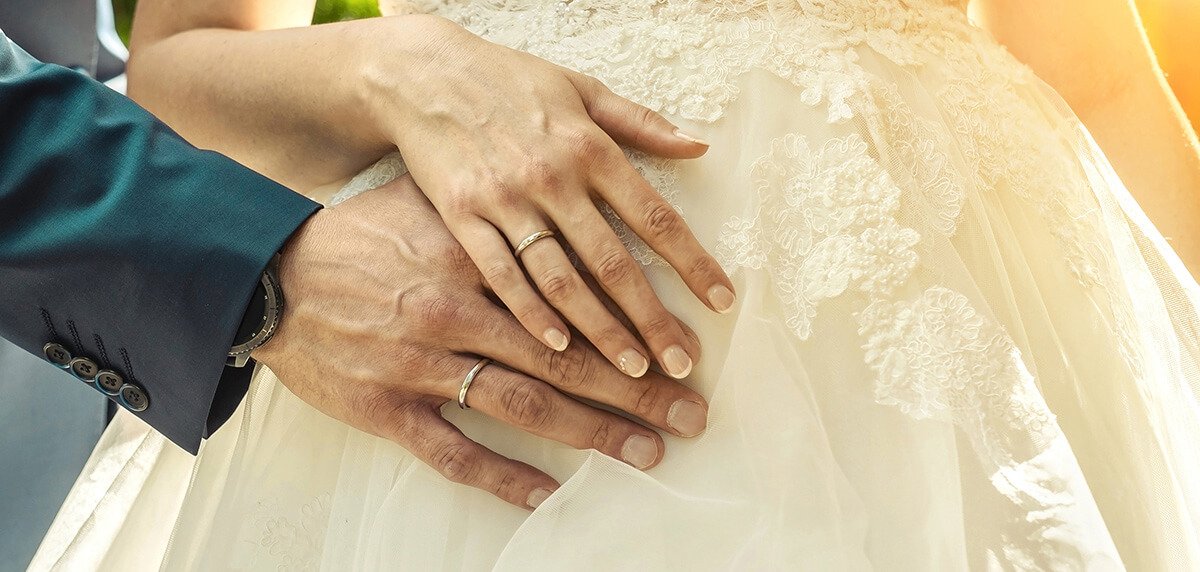 Happy Wedding Season from MJR! A lot of what we do is about making sure that this special day goes off without a hitch. The ways our services help our customers out during their special days are many, whether it's an expert ring sizing, an engraving, or even vintage jewelry restoration.
My Jewelry Repair prides itself on getting the job done right the first time around when it comes to jewelry repair, ring sizing, and ring re-sizing.
My Jewelry Repair and Wedding Season
When you consider most wedding venues, each one definitely has a peak season and a slow season. You can bet that during the Spring and Summer months you'll see the most ceremonies, carrying into the early Fall. Weddings will generally peak in June and September.
Tip #1: Accessorize the Right Way
So, what are your plans this wedding season? Are you getting married? Are you a best man or a bridesmaid? No matter what, it's important to make sure that your accessories are onpoint. That might also mean sending in your favorite pair of earrings for repair, sending in your favorite timepiece for our signature refurbishment. Give yourself a little bit of time in advance. Send your broken jewelry or non-operational watch to MJR through our online, mail-in repair service and we'll have your accessory back to you good as new.
Tip #2: Get the Important Stuff Right
If you're helping plan a wedding or even a bride or groom, it's important to make sure that wedding bands, wedding rings, and bridal party and groomsmen accessories fit the right way the first time around. That's where MJR comes in clutch. We're here to help with things like cleaning and polishing, setting stones, ring sizing (and resizing), rebuilding and replacing prongs, rhodium coatings, and more. It doesn't matter if you have something brand new that needs to fit precisely, or something classic that needs to be refurbished, MJR is here to help.
Making sure you prioritize the day is important. Try not to sweat the small stuff like cupcakes not getting delivered on time, or whether or not Bob is going to bring a plus one or not — which might ruin the whole seating arrangement. What's important is that you let the important people/person know how important they are to you, and that you're here to celebrate this special day with them.
Tip #3: Have Fun with It
When you enlist the services of My Jewelry Repair, you take a lot of the stress out of the equation. Through our online, mail-in process you can get whatever repair or service you need without ever having to leave the comfort of your own home. Since wedding season can be a stressful time, it's gotta be nice to know that there's a service out there that has your sanity in mind.
This wedding season, no matter which side of the aisle you stand or which area of the seating arrangement you've been confined to, My Jewelry Repair is here to help. Visit our website today to view our suite of certified watch repair and jewelry repair services. It's easy to get started and remains the most effective and efficient way to get your watches and jewelry repaired, no matter what season it is.
3 Fantastic Wedding Venue Ideas for Wedding Season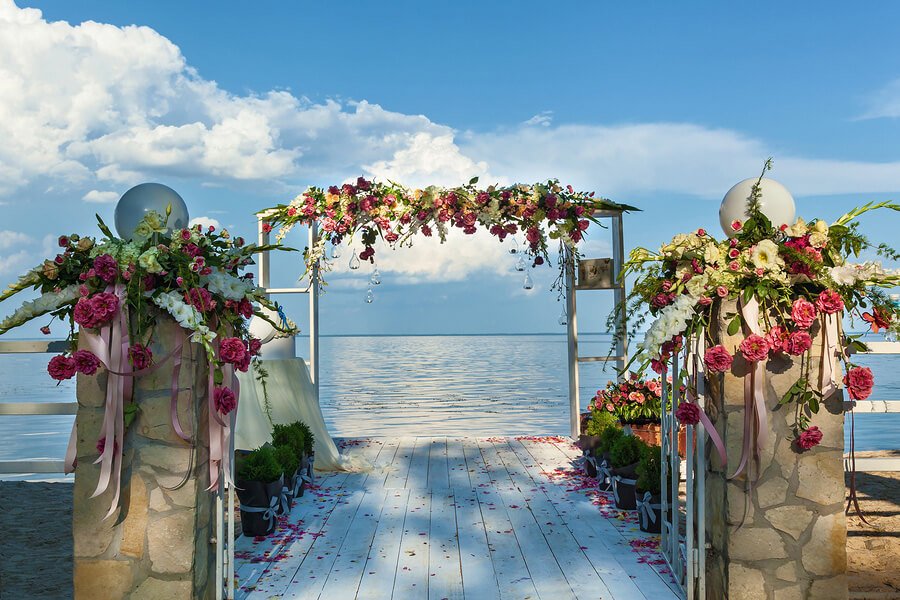 As we cruise through another series of summer months, wedding season continues to be in full swing. How many weddings have you been to so far?
We've serviced many wedding goers, whether they're bride or groom, bridal party member or group of groomsmen trying to synchronize and accessorize, Moms and Dads trying to look their best as they hand over their pride and joy. My Jewelry Repair repairs, refurbishes, and performs routine maintenance on watches and jewelry of any type, made of any precious metal under the sun.
Wedding season is a special time for us and we like to make it special for every customer who trusts their jewelry and watch repair work to us during this hectic time of year. It is in the spirit of making weddings special that we offer a few wedding venue ideas for those of you who are looking to make a statement.
1.) Utilize a National Park!
National parks can help you make your wedding one for the books. You've got the Grand Tetons, Acadia National Park, Yosemite, and more to choose from!
Take Yosemite, for instance. You might not be aware of this, but Yosemite Valley Chapel has been used as a beautiful location for weddings in Yosemite for over a century! It's an intimate, historic, scenic venue — and when the deed is done, you get to open the chapel doors and gaze upon a breathtaking view of Yosemite Falls.
2.) Botanical Gardens or Conservatories
Look into your city or a nearby city and see if there are any lush botanical gardens or chic conservatories that will give you a deal. You and your wedding attendees will get to see an amazing array of beautiful blooms on your special day. Many of these spaces have fountains, manicured verdant paths, flower beds, and even ethereal greenhouses — prime for a ceremony and a reception! You'll also cut cost on decor. Just sayin'.
3.) Historic Buildings or Ample-Spaced Orchards
Historic buildings (like libraries, for instance) make elegant spaces for weddings. You'll often want to book far in advance and make sure that the building can accommodate your arrangements.
If you don't want to be enclosed, utilizing a spacious orchard might be the better answer for you. Orchards are hidden gems worth your consideration. So many people opt for the most popular beach or lakefront property to hold their weddings. Often, orchards will be centuries old and provide an inherently gorgeous rustic vibe. Many of these orchards offer homespun appeal, providing special accommodations and wedding-centric amenities, like row boat rides, horse-drawn carriages, and swimming holes!
Making wedding arrangements can be hectic. That's why My Jewelry Repair makes it easy on our customers. Whether you need a classic watch repaired, a flea market relic refurbished, or even if you need to get your wedding ring sized or resized, we're here to help. We provide an online, mail-in process that is safe, secure, and will get your watch or jewelry looking like new again.