Our online ordering process makes it easy to place your order, allowing you to spend less time trying to get your watch serviced and more time enjoying your restored timepiece.

You can mail your watch to our certified watchmakers where we provide you with an evaluation free of charge. Following that, we get the information back to you and you choose the repairs you want at the click of a button. We then simply perform the repair and send it right back to you!
No Job Too Simple or Too Complicated
At MyJewelryRepair.com, our master craftsmen have over 20 years of experience bringing timepieces back to their former glory. From professional battery replacements to mechanical movement overhauls, we have all of your watch repair needs covered!
A Quick Look at Movado
Movado was founded and created first as LAI Ditescheim & Freres SA in 1881 in beautiful La Chaux-de-Fonds, Switzerland (we're not mad if you can't say that three times fast, either). Settling on Movado (which means "movement" is Esperanto) in 1975, this watch has enjoyed some serious staying power. With their new line of "Connect" smart watches, one can bet that their legacy is intact for years to come.
Proving that watches are sometimes seen as a relic from a bygone era, Movado's trademark is their iconic, single dot at the 12 position -- which many believe symbolizes the sun at its high noon point. Their most popular watch is their "Museum Watch," which was originally designed by Nathan George Horwitt, who was seriously into Bauhaus.
Any Movado, Any Service
We Specialize in:
Movado Watch Restoration
Have a classic timepiece that's in need of routine maintenance or refurbishment? We clean and overhaul both quartz and mechanical movements. We also do band and case refinishing, watch band repair, and more. Consider us your complete classic watch restoration service.
Movado Watch Maintenance
In this DIY culture you might be tempted to try a vintage watch repair or a quartz or mechanical watch battery replacement, but do you have the precise tooling to conduct proper pressure (water resistance) testing? That's what we thought. We're here to do all the intangibles to keep your Movado watch telling the time accurately and looking amazing while doing it.
Movado Watch Repair
Common Movado watch repairs include band and case refinishing, watch crystal replacement (Sapphire, Glass, and Lunette), gasket replacement, link addition, link removal, watch movement replacement, and stem and crown repair. Our certified watchmakers stay up on their craft, recently earning new Swiss credentials. We mentioned Movado is from Switzerland, right? Our watchmakers also carry countless certifications, including CW21 & SAWTA, and, most recently WOSTEP (Watchmakers of Switzerland Training and Educational Program) certification. Whoa.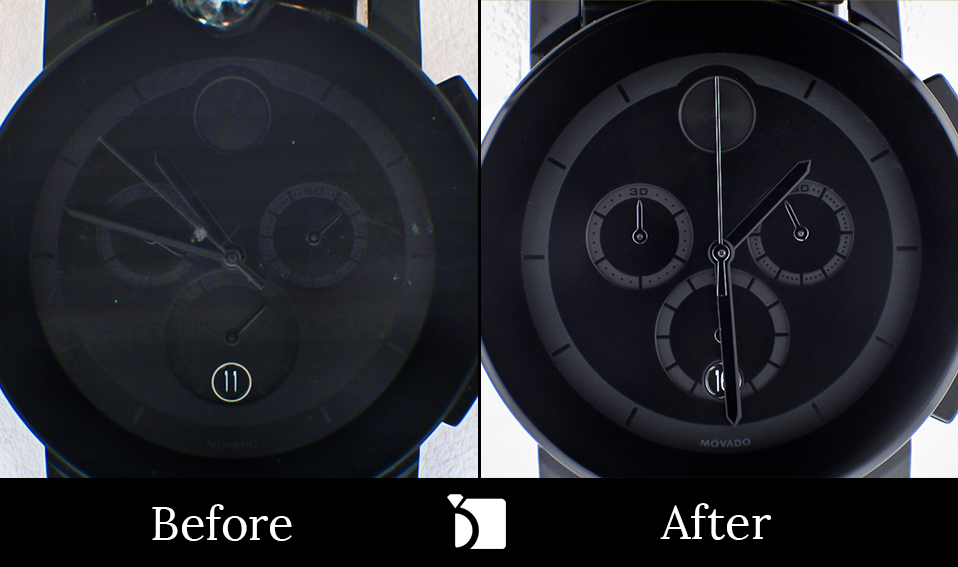 Your Movado Repaired from Home
Getting Your Movado Serviced with Us is a Breeze
My Jewelry Repair has this down like clockwork, even though getting a Movado watch repair that looks like it came from a more advanced galaxy doesn't have to be rocket science. Our online, mail-in process is a seamless marriage of latest technology and time-honored technical skills. Our process is easy.

If you're unable to select the repair you need from our online interface, contact My Jewelry Repair directly today. If you're not sure exactly what needs to be done, send your Movado watch to us for an estimate -- no commitment required.
Don't accept any Movado watch that doesn't shine and operate like new. If yours does anything less, visit MyJewelryRepair.com today.
The Premier Watch Repair Service Center
Your watch will be restored in the most ideal conditions for a timepiece possible. Including Swiss standards such as: NASA level clean rooms, extensive natural lighting, the latest equipment, and more. There is no other facility of this level, designed specifically for the craft of watchmaking, in all of North America.
Our team of Experienced Watchmakers have many Certifications, including:
WOSTEP
CW21
SAWTA
SWATCH Group
Among others, and more still to come! (Learn More)
They did a beautiful job on the exterior cleaning and polish
Sent my automatic watch to these folks for repair as it was no longer keeping accurate time, they assessed the watch for needed repairs and sent me the estimate which I approved. About three weeks later I received a email stating that my watch had shipped, they provide a tracking
…
number that I might keep a track of it, upon receiving the watch I inspected it and have to say that they did a beautiful job on the exterior cleaning and polish plus they replaced the clasp, I can only assume that the work done to the movement is of equal quality and detail this will be born out over time as I see how the accuracy is. They also provided the pressure test ticket in the return package. I would recommend this company if you have need of jewelry repair.
Read more "They did a beautiful job on the exterior cleaning and polish"
Gordon M.
"Searched All Over Russia/Ukraine for the Parts Needed"
This particular work order took over a year to fully complete, with the watch being sent back three times for all the work to be done properly. I do understand that this was harder project given that it's a vintage Russian movement, but I can't tell you enough how much
…
it meant that you searched all over Russia/Ukraine for the parts needed to complete the work. The watch is running absolutely amazing and can't believe how good it is running. It's truly a centerpiece to my vintage watch collection and I absolutely love it. Thanks again for all the hard work and time you put into it and that's what prompted this message. I do believe in acknowledging hard work and this is truly wonderful. Thank you again and keep up the good work.
Read more ""Searched All Over Russia/Ukraine for the Parts Needed""
I feel like I have found a treasure
THANK YOU for restoring my Montana Silversmiths Earrings back to their original condition! You did an awesome job, and, they are as beautiful now as when I purchased them over 25 years ago! I called Montana Silversmiths and spoke with Sheila Green in Customer Service, and gave her your contact
…
information so that they can now direct their customers directly to you when they need something reconditioned. I feel like I have found a treasure in knowing that you can repair and restore everything from inexpensive pieces to very valuable pieces. You can bet that I will be sending more business your way!
Jennifer Greene