Shipping and Insurance Options
A guide to help you navigate the shipping process.
While creating your repair order, there may be many options available to you to securely ship your items. For starters, My Jewelry Repair is only available in the United States and can ship to any state including Hawaii and Alaska.
It is important to note that because signature is required for return delivery, we do not accept P.O. boxes as return addresses.
Regular Repair Order Options
Regular My Jewelry Repair orders that do not have an authorized partner warranty/maintenance agreement attached to them have the most options available.
Default Option: Free Standard Shipping
Our Free Standard Shipping without insurance via USPS ParcelSelect is our default option and is available in most cases.
Customized Options: Shipping Method
The full list of shipping options available are:
USPS

ParcelSelect
Priority
Express

UPS

Ground
2nd Day Air
Next Day Air

FedEx
Customized Options: Insurance
Your item will be insured for the amount input in Declared Value, up to a maximum of $5000. Insurance is provided via EasyPost.
Partner Shipping Preferences & Specifications
Some of our authorized partners require specific shipping methods and insurances, while others may default to our standard shipping options (such as free standard shipping and option to opt-out of insurance)
Current partners who default to our standard options: Bulova (Accutron), Judith Ripka, Movado, Victorinox Swiss Army.
Partners Who Require Shipping and Insurance Specifications.
Macy's
Macy's covers the cost of shipping and insurance for Macy's customers (including those without a WorryNoMore plan) both to and from our facilities.
-The shipping method Macy's utilizes is UPS 2nd Day Air
-Insurance covers the cost of the declared value up to $5000.
Montblanc
Montblanc requires customers to pay for shipping and insurance both to and from repair facilities. Upon request, Montblanc customers may have shipping boxes designed for Montblanc items shipped to them, after paying for shipping and insurance.
Sears
Sears covers the cost of shipping for Sears customers both ways via UPS 2nd Day Air. No insurance is attached to Sears items.
Packaging Your Items
Once you have created your order and printed your shipping label, the next step is to package your items securely to send them to our facilities. Below is a guide with some best practices.
Packaging Instructions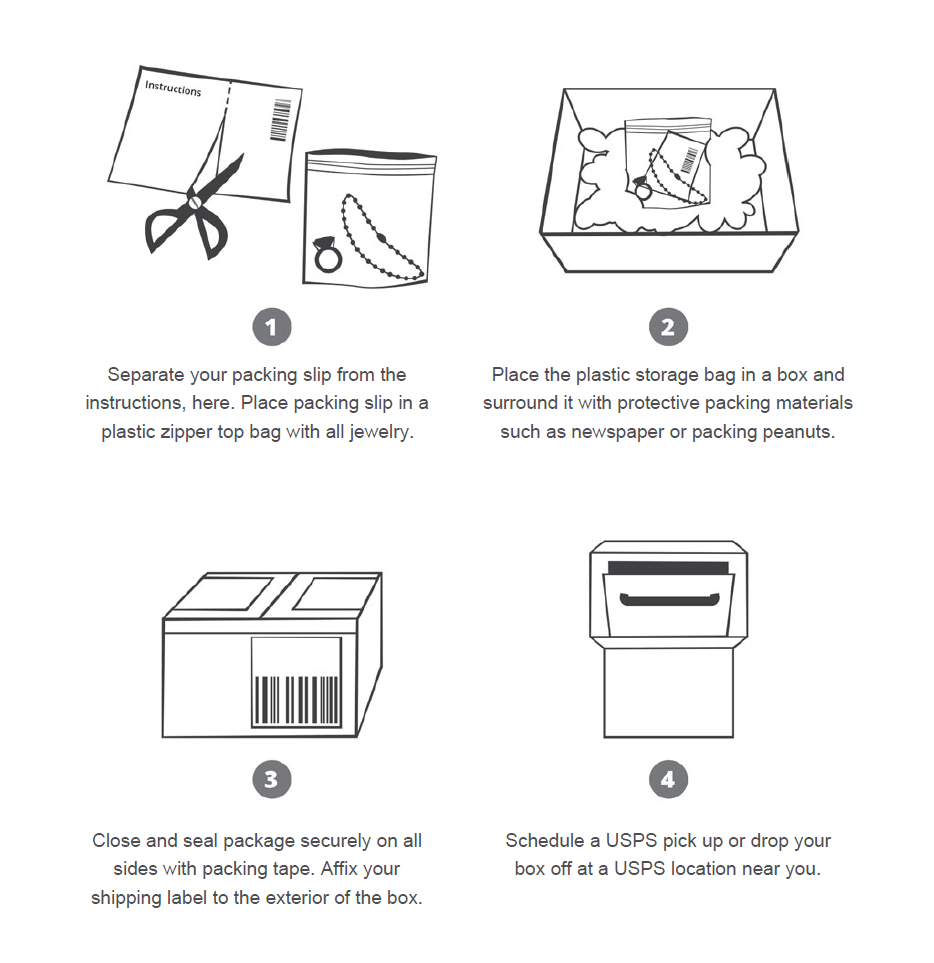 Items Missing
In the unfortunate circumstance that your item goes missing in-transit, there are a couple of options.
Missing Item Was Insured
Lost in transit to the facility
In this instance you must file the claim. We will provide as much assistance as we can, including docs. Please contact us at info@myjewelryrepair.com.
Lost in transit back to customer
In this instance we will file the claim for you. Please let us know and contact us at info@myjewelryrepair.com.
Missing Item Was Not Insured
Either to or from our facility
This is a very tricky situation and our best success here is to reach out to the post office or shipping center that last had the item and attempt to put a claim for the missing package.