First Ladies Have A History With Jewelry
Elegance, class and grace under pressure — we look to our first ladies to inform our conduct as a nation. What social rights issues should we be aware of? How do we build productive relationships with allies? How should we comport ourselves with dignity when negotiating with friends and foes?
With a position as unique as theirs, this distinguished group of women holds a deep understanding of the importance of appearances — not just aesthetically, but also symbolically. First ladies have a long history of using clothing and accessories to communicate clear, calculated messages — whether addressing the public or attending a diplomatic dinner. And of all the wardrobe choices, jewelry in particular has the power to distinctly convey social and political philosophies and reflect the sentiments of the time. Read on to learn about how some of our most iconic first ladies used jewelry to communicate their values throughout history.
Martha Washington
Contrary to popular depictions of the inaugural first lady as a frumpy, whitehaired woman, Martha Washington was actually quite fashionable. After her first husband — a successful trader — passed away, Martha took over his business dealings, putting her in direct contact with London's merchant class and consequently, the desirable European fashions of the day.
When she married George Washington, she carried her good taste to Mt. Vernon, and owned several pieces made of garnets and seed pearls, which were very stylish at the time.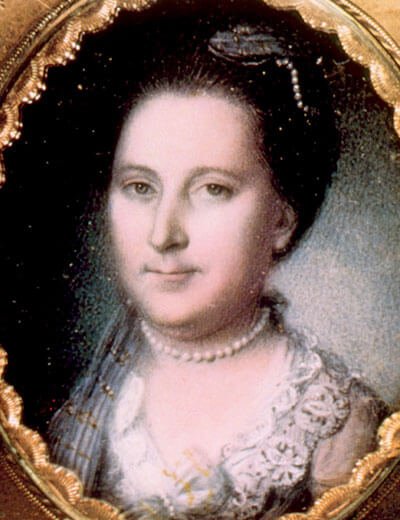 Though she appreciated elegant dress, Mrs. Washington was careful to ensure that her choice of adornment remained modest. She eschewed ostentatious baubles in favor of those with symbolic significance, like her iconic amber necklace — now on display in the Smithsonian's National Museum of American History. Amber was a notably popular stone among the
ruling (but "democratically" elected) classes in Ancient Greece and Rome. Her choice of Greco-Roman-inspired jewels intentionally drew parallels between the democracies of ancient times and the establishment of the American "New Republic."
Mary Todd Lincoln
Another first lady with a keen fashion sense, Mary Todd Lincoln's au courant taste in jewels reflected her husband's progressive policies. At the time, American-sourced freshwater pearls were abundant and popular, and Mrs. Lincoln's most famous piece of jewelry was covered in them. Gifted to her by the 16th president for his inaugural ball, Mrs. Lincoln's Tiffany pearl rosette choker and matching bracelets remain in good condition today.
Though extremely well crafted and refined, this jewelry set held an appropriate amount of restraint for a nation on the brink of civil war. Instead of opting for the full parure (jewelry set) — which would have also included earrings, at least one brooch and a corsage — the Lincolns opted for a pared-down collection, selecting only the earrings and necklace — a symbolically wise decision for a new administration in troubling times.
Eleanor Roosevelt
To say that the Great Depression was not an easy time is a vast understatement. Though Eleanor Roosevelt and her husband came from wealth, it was exceedingly important that they projected an image that reflected the everyday American experience of the time. While she dressed elegantly, Mrs. Roosevelt eschewed fine silks, diamonds and gold for practical wool dress suits, modest hairstyles and a simple strand of faux pearls that adorned her neck during her many inspiring public appearances.
An advocate for human rights and women's autonomy, it's fair to say that Mrs. Roosevelt is remembered for her meaningful contributions to social justice more than her jewelry. We think she'd be just fine with that.
Jacqueline Kennedy
Perhaps the most iconic first lady, Jackie Kennedy exuded class and elegance with every step. Known for her distinct fashion sense, her wardrobe came to define the 1960s with chic, colorful suit sets, pillbox hats and her ever-present multi-strand of pearls.
Other notable jewelry pieces include her emerald and diamond engagement ring and her collection of colorful, sparkly brooches.
Her fresh, bright and modern approach to fashion and jewelry paired perfectly with her husband's progressive, optimistic presidential agenda. Before their time in the White House met its tragic end, Mrs. Kennedy frequently hosted gatherings for notable individuals in the fields of art, science, philosophy, politics and social justice, and took presidential PR to an unprecedented level in the TV era — hosting White House tours and speaking to the press with grace and confidence. Her vibrant approach to her role as first lady changed the game forever.
Nancy Reagan
As her husband ushered in the free-market economy, Nancy Reagan responded accordingly with a jewelry box full of gold, diamonds, platinum and even a jeweled American flag ring. Yet while her pieces were characteristic of the opulent 80s, she managed to wear them all in a prim, even understated, manner.
Mrs. Reagan was always sure to look polished and put together — the perfect aesthetic to match her "Just Say No" anti-drug campaign. Wherever you stand on her family's politics, there's no denying that Mrs. Reagan was very savvy about the face she presented to the public — working hard to keep her and her husband's image squeaky-clean throughout an often tumultuous era.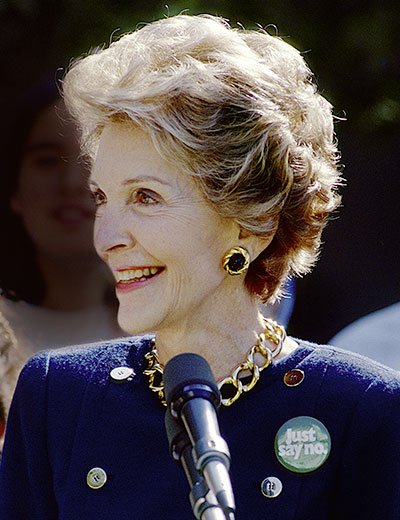 Hillary Rodham Clinton
Hillary Clinton distinguished herself as the first first lady to go on to hold a cabinet position, and the first woman ever to move beyond the primaries for presidential election. For a woman so ambitious and hard-working, it's no surprise that her personal style has always conveyed strength and efficiency.
Rarely seen with sparkly gemstones, HRC's personal tastes tend toward the pragmatic. No-nonsense pantsuits and simple, bold jewelry made of strong, solid metals reinforce her image as a serious, focused politician.
Michelle Obama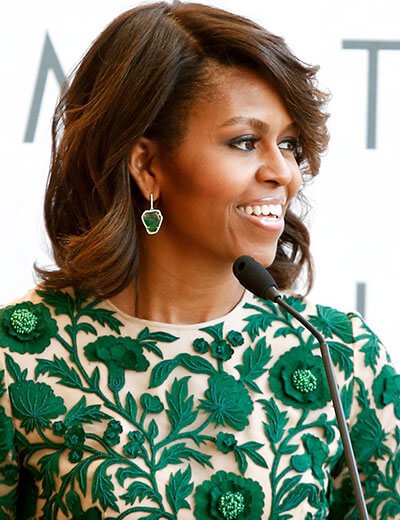 Stylish, strong and elegant, Michelle Obama took care to make purposeful fashion choices during her time in the White House. Mrs. Obama's tastes are somewhat unconventional for a woman in the political arena, as she makes a point of choosing items crafted by independent designers — often women of color — over big-name brands to support their growth and success. Designers on this list include Miriam Salat, Shilpa Yarlagadda and Sara Weinstock, among many more.
She also had a knack for seizing the moment during her tenure as first lady. When a tree fell on the White House lawn, she commissioned designer Kara Ross to turn its wood into bracelets, which she then gifted to visiting heads of state.
What better way to welcome guests than giving them a literal piece of the White House?
As these exceptional women demonstrate, jewelry can send a powerful message, especially for those in the public eye. Each first lady on this list shrewdly used her appearance to fortify the values of the presidency and reflect the morale of her time. With polish and poise in the midst of scrutiny, our first ladies play a significant role in setting the tone for an era — and for that, they deserve to be commended.
If your statement pieces are in need of a revision, check out myjewelryrepair.com. Our skilled team of experts can repair, clean, adapt or adjust jewelry of all kinds.