Spooky Jewelry Creations
If you're looking for some inspiration when it comes to the perfect way to detail your Halloween costume or to pull off some spooky/festive looks during the Halloween season, it's a good idea to look to the stars. Rockstars, that is.
Rockstars Know How to Accessorize
Historically, rockstars have had some of the most bold offerings when it comes to accessorizing, whether it's the famous Alice Cooper with his prominent use of the Egyptian Ankh or ZZ Top's famous double skull rings.
But how can you accessorize like a rockstar during this Halloween season to differentiate yourself from the rest of the pack?
Skull Rings and Things
As said previously, rockstar celebrity skull rings are all the rage right now and have been for the last several decades. They've never gone out of style, come to think of it.
Spooky ring and jewelry designers caught on with the likes of Keith Richards, Jimi Hendrix, Jim Morrison, Janis Joplin — all of these artists sported spooky jewelry 365 days a year. Of course, you don't have to show that sort of commitment to creepiness.
Sourcing Spooky Jewelry
Take a look locally and online to find pendants and rings inspired by Halloween and horror. Grim reapers, spiders, Jason masks, Freddie Kruger faces — you can pretty much find just about any horror motif, theme, or character on a pendant or charm these days.
Going as a Rockstar for Halloween? No Problem!
What if you're going as a specific rockstar for Halloween, like Slash, or David Bowie? Well, you have plenty of options there, too. Many designers have paid tribute to David Bowie and other rockstars through their jewelry offerings. You can even take a look at old David Bowie photos to get a sense of what he wore, then go to a consignment shop or a thrift store to pick out the perfect accessory to pull off the best DB look.
At My Jewelry Repair we're here to help you pull off the perfect costume. Send us any thrift store or rare Halloween jewelry finds and we'll spruce them up for you during the Halloween season. Get in touch with us today and get started with our easy process. You don't even have to leave home to get your jewelry and watches repaired by industry leaders.
5 Fantastic Halloween Costume Ideas
For many of us it might be true that we come up with some amazing costume ideas in November and December. However, when the month of October rolls around, we stare blankly at our closet, looking on at last year's costume, entertaining the idea of breaking it out yet again.
Let's avoid that scenario this Halloween!
Instead, My Jewelry Repair would like to discuss some awesome Halloween costumes to get your inspiration brewing. There's still some time to pull together something legendary.
Idea #1: Take it to the Movies
In this day and age, with pop culture references abound, the first place many of us go to come up with a great costume is to the movies. Maybe you pull together an amazing Jack Burton, perhaps Audrey Hepburn from Breakfast at Tiffany's, or maybe pull a wild card and go as Ace Ventura Pet Detective. The sky's the limit here!
Idea #2: Historical Figures
Who doesn't like to run into Mark Twain at the party punch bowl, right? Maybe you go as Attila the Hun, Joan of Arc, or Sir Francis Drake. Historical costumes are fun and give you a chance to think outside the box. Drop a few factoids and stay in character to make the evening really pop.
Idea #3: Go As One of Your Friends
If you have a friend who has a distinct style all unto themselves, you can catch them off-guard by being THEM for Halloween. Pro tip: work on your impression, but be respectful of your friend, always. It's a great opportunity to create some amazing laughs, so long as we're all laughing with each other and not at each other.
Idea #4: Go as a Thing or a Concept
Some of the Halloween costumes that stand out the most are simple objects, symbols, or concepts. Figure out a way to be #Blessed for Halloween, or you can literally go as a hashtag and run about all night tagging people. Make sure it's fun for everyone, though.
Idea #5: Get Meta with Your Costume
You can go off the rails with your costume, too. Think about what if scenarios, like what if Elmo dressed as James Franco from Spring Breakers? Or, maybe go as Magnum P.I. dressed as a stormtrooper — make sure you keep the Detroit hat. Thinking outside the box will get people's attention, but just make sure you're not spending the entire evening explaining what you are. Try to be as clear and easy to recognize as possible.
We hope some of these tips help you create an amazing, memorable, and safe Halloween. If you have any watches, necklaces, bracelets, or rings in need of repair, make sure to send them in to My Jewelry Repair.
Tips to Avoid a Halloween Jewelry Disaster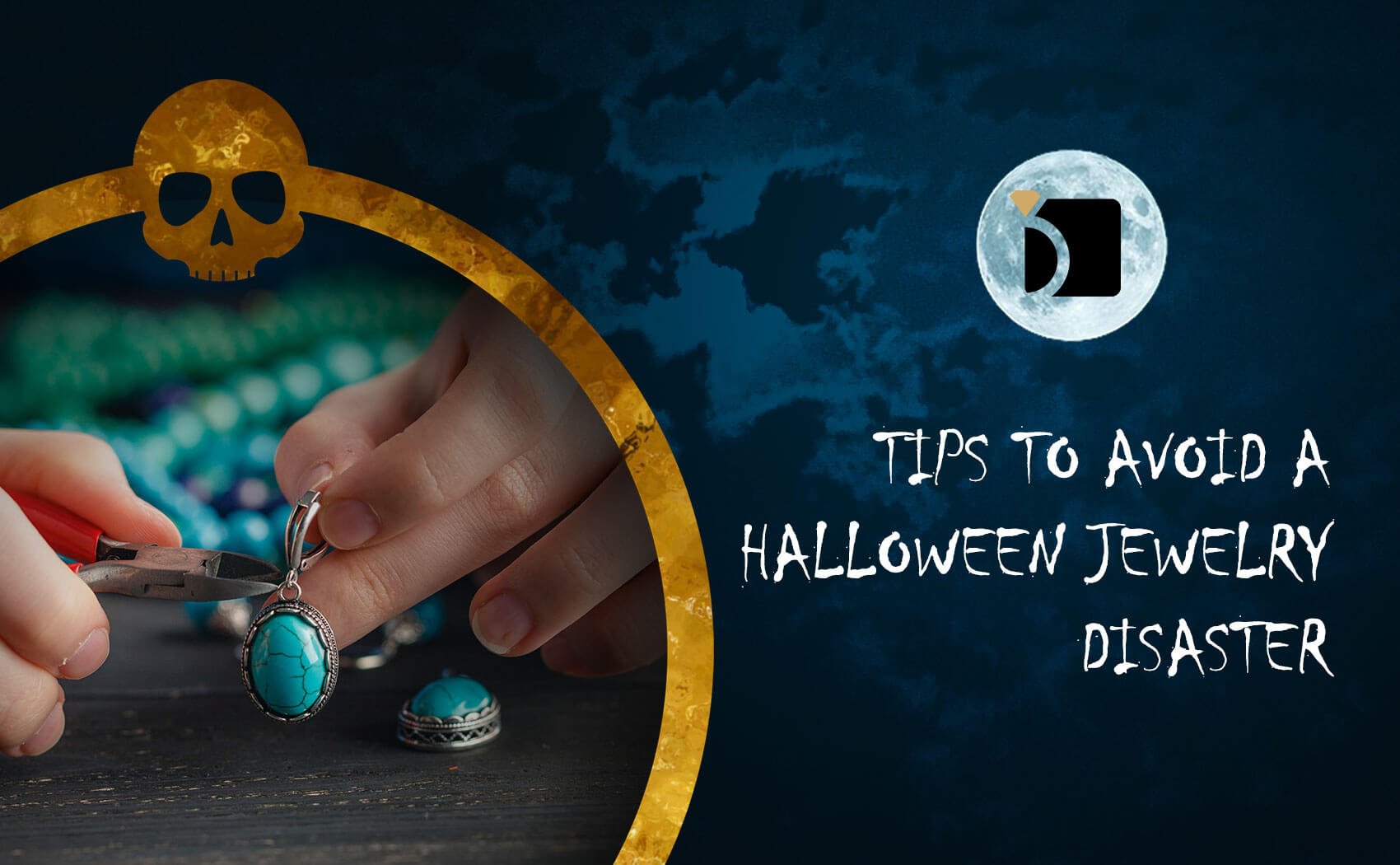 Tips to Avoid a Halloween Jewelry Disaster
As Halloween approaches, many of us are putting together our costumes, trying to create something amazing — many times out of just a few ingredients.
One big ingredient for many costumes happens to be jewelry, or even watches, which means that, should you decide to break out the good stuff, you might be susceptible to damaging or losing your valuables.
We'd like to help our customers and readership avoid such pitfalls this Halloween. In the spirit of having a fun and safe Hallow's Eve, we thought we'd go over a few measures you can take to avoid a Halloween jewelry disaster.
Tip #1: Perform Your Routine Maintenance
If it's your watch, make sure it's shining bright, telling the correct time, and that it fits snug on your wrist. Make sure your rings fit; earrings need to to be firmly in place. If you have a set of pearls, make sure you get them re-stringed prior to venturing out. My Jewelry Repair has an easy online process to get all of these services done before Halloween. Send your jewelry and watches in today!
Tip #2: Leave Your Best Stuff at Home
If you've invested in a valuable watch or piece of jewelry, it's likely you save wearing these for special occasions. Sure, Halloween is a special occasion, but it's also when a certain amount of acceptable mischief gets made. People have adult beverages and then all bets are off — especially when it comes to losing or damaging jewelry or watches. Instead, utilize your less expensive stuff that might not be getting any play.
Tip #3: Hit Up the Thrift Stores
By hitting up the local thrift and consignment shops, you might be able to find a low-priced relic that fits with your costume, or even makes your costume, in best case scenarios. If you do find that hidden gem, you can send it on over to My Jewelry Repair to have it cleaned and polished, even refurbished for a brand new look!
Be safe this Halloween and visit www.myjewelryrepair.com today to get started on your jewelry and watch repairs.