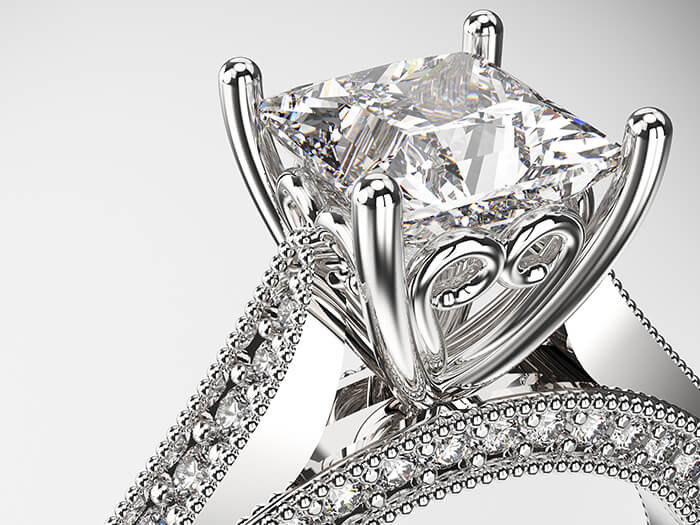 MyJewelryRepair.com sees a lot of jewelry repairs, because that's what we do. If your jewelry is in need of repair, it's best to send it in right away, before the problem itself intensifies, or new problems develop, requiring a more sizeable repair.
Damage can occur to stones, prongs, or any other pieces of your jewelry, whether it be an earring, a necklace, bracelet, or ring. Parts of your jewelry can fall off without you knowing, but if you're able to, it's important to locate any findings and secure them. We often use the original pieces as part of our repair. If for any reason the original piece cannot be used, we will create a new piece for you.
So what type of repairs do we see a lot of at My Jewelry Repair?
Rings, Rings, Rings
We get a lot of ring sizing requests, as well as requests for retipping of prongs, and even prong replacement. Think about how often you use your hands. Rings go through the most wear and tear out of any other type of jewelry — except maybe watches. Stones can become loose (which would require a stone tightening procedure), prongs can break, and the ring itself may need a professional clean and polish to make it look like new again.
Those Hanging Chains
Necklaces and chains are another type of jewelry that we get a lot of. Every link in a chain is an integral part of the whole, and, unfortunately, each link is a piece that can age, weaken, and break.
Don't Get Us Started on Clasps
Chain repairs are quite common, but clasp replacements are even more common. Spring ring clasps, lobster clasps, barrel clasps, toggle clasps, box clasps, magnetic clasps, fishhook clasps — okay, you get the idea. Every time you put on or take off your necklace, whether that be before bed or before a shower, your clasp is doing work and undergoing significant pressure. A chain clasp is a fairly intricate part of a necklace, too, and it can require dexterity to get your necklace on and off. We can replace all types of clasps, and we'll even replace old clasps with larger, newer ones for easier use.
Pearls of Wisdom
Pearl restringing (knotted and unknotted) is another common jewelry repair we perform. Those who have pearls tend to take care of them and stay on top of any repairs needed. If your pearl necklace does break, make sure you retrieve all pearls and other pieces, or as many as you're able to find.
Do you have a piece of jewelry in need of repair? You've come to the right place. We're up to any task at MyJewelryRepair.com. We specialize in restoring your showcase pieces back to showroom quality, same as the jewelry you wear every day.